In May 2015 the HSE reported on 44 cases involving companies that were found negligent resulting in average fines of £10k per company.
The latest case being a property company in Lancashire who have been fined £14,400 plus full HSE prosecution costs of £1,276 and a victim surcharge of £200. They failed to protect their employee whilst working at height.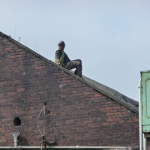 45% of deaths (19 of 42) in Britain on Construction Sites last year were as a result of falls from height and 581 workers suffered major injuries (35% of the total).
We are making a conscious effort to make sure all companies big or small are aware of the risks involved in working at heights.
If you need an up to date Risk Assessment and Method Statement we are offering a free download.
The HSE offer comprehensive guidance and information free of charge to download  http://www.hse.gov.uk/construction/index.htm so that all companies have the resources available to them to ensure they comply.