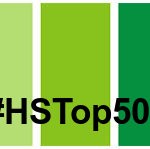 Where Do You Rank In The Health & Safety Top 500 Leaderboard?
The Health and Safety Industry Top 500 Leaderboard is curated and managed by David Cant @DavidGCant, and published by Veritas Consulting Safety Services Ltd, in association with PPE.org – @PPEORG
The Leaderboard shows rankings in an association table-design for the Top 500 people, organizations and association worldwide in industry related parts. This leaderboard perceives the Top 500 dynamic Twitter users included in the Health and Safety Industry, working in Asbestos, Training, E-learning, PPE Suppliers, Safety Equipment, Road Safety, Environment and some more!
This time last year we ranked #217 in the Health & Safety Top 500 Leaderboard. With this in mind we are very proud to announce that we have jumped 138 places over the year and now rank #79. Over the past month alone we are up by 23 places from #102 and are hoping to continue to climb the ladder.
Rankings are in light of Social Media associations and impact over all online networking channels, for example, Google, Facebook and Linkedin, with the information measured by Klout. Rankings can go "Up or Down" contingent upon Social Media action in this way.
Where do you rank?
On the off chance that you are not on this Leaderboard and in the Health and Safety industry yourself or might want to designate somebody who ought to be incorporated tweet @DavidGCant the details with #HSTop500 and David will add you to the LeaderBoard to see where you Rank.