Fines imposed for dangerous scaffolding work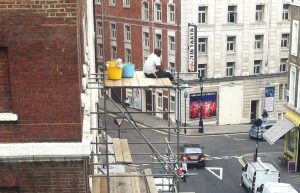 A scaffolding worker has been put into an induced coma after falling 5 metres through a roof at a factory in Cheshire. Local Asbestos Service Ltd and Construction Contracting UK Ltd were taken to court by the HSE (Health and Safety Executives) after an investigation into the incident found that Health and Safety laws in the Workplace had been broken.
The injured man, Peter Tracey, who was 59 years old, was employed by Local Asbestos Services Ltd to remove asbestos roof sheets from a closed down factory. Mr. Tracey fell to the concrete floor below after stepping on a fragile plastic sheet in the roof. Mr. Tracey he had to be airlifted to hospital, before it was discovered his injuries were so critical he would have to be placed into an induced coma.
Peter Tracey and another man he was working with were provided with no safety gear in which to complete their job, job that was previously agreed to be done by machines and not by hand.
Mr. Tracey's life has now changed forever because of these injuries, day-to-day tasks have become impossible. He has discussed his sadness over not being able to play with his grandchildren and how he has to rely on the support from his family.
Construction Contracting Ltd was ordered to pay £23,502 in fines after being found guilty of breaching the Construction (Design and Management) Regulations 2007.
Local Asbestos Services paid £8,000 and prosecution costs after being found guilty of breaching the Work at Height Regulations 2005.
The HSE inspector involved said "Sadly this kind of incident is all too common in the roofing industry, and Mr Tracey has suffered debilitating injuries because of the failings of both Local Asbestos Services and Construction Contracting."
Colin Carruthers

Colin has over 20 Years experience working in Health and Safety. He advises companies from single operators to multi-national organisations. You can be assured that your Health & Safety is in safe hands with Colin. Find out more about Colin on his Google+ page.