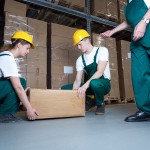 The Importance Of Safe Manual Handling In Your Business
All manual work involves lifting and handling to some extent. Although mechanical equipment should be used whenever practicable, much of the work will inevitably continue to be done manually. The risk of injury can be greatly reduced by a knowledge and application of correct lifting and handling techniques and by taking a few elementary precautions.
Manual handling relates to transporting or supporting of a load (including lifting, putting down, pushing, pulling, carrying or moving thereof) by hand or by bodily force" It is the most common recognised reason for injury at work.
In any case, it's not simply 'pulling something' because of the heaviness of an item, injuries can be brought on in different causes, for example:
Reaching and lifting over your head
Long carrying distances
Twisting
Bending
Any poor stance positions
Lifting or carrying objects with awkward or odd shapes
Over 20% of all accidents occurring in the UK Construction Industry each year involve injuries sustained whilst manually lifting and handling materials or equipment. This incorporates Musculoskeletal Disorders (MSDs), e.g. injuries or pain in the body's joints, ligaments, muscles, nerves, tendons, and structures that support limbs, neck and back. Manual handling injuries can happen anyplace inside of the working environment; However, manual labour, existing injuries and unbalanced stance positions can increase the risks.
Manual handling can have consequential implications for the employer and for the individual who has been injured. The employer may bring about some significant expenses, for example, sickness payment, lost production, retraining of a brief labourer, over time to cover the absence and, possibly, compensation. The injured individual may find that their capacity to carry out their occupation has been influenced and their way of life may need to change.
In this manner, it is basic that you must consider the risks and where there are risks, regulations apply.
The Regulations establish a clear hierarchy of measures:
AVOID handling operations involving risk of injury
ASSESS operations involving risk of injury that cannot be avoided
REDUCE the risk of injury e.g. using handling aids and provide information on the load
REVIEW the assessment
Employers Duties
Carry out a Manual Handling Assessment
Reduce risk of injury
Replace Manual tasks where possible
Introduce mechanical aids
Employees likewise have responsibilities:
Make proper use of equipment & follow safe working systems
Co-operate with their employer
Ensure others are not put at risk
Avoid tasks likely to cause injury
Co-operate with the employer to reduce the risk of injury to themselves and others
There are numerous routes in which manual handling can be maintained, see the HSE's brief guide on manual handling.
In connection to the weight of a item, this is the thing that may first ring a bell when considering manual handling, Regulation 4 of MHOR requires a business to make suitable steps to give general indications, and where sensibly practicable to do as such, exact data on the weight of a load. Likewise, the heaviest side of the load is to be marked where the gravity is not situated centrally.
RoSPA give this supportive infographic to their top tips on manual handling
The Manual Handling Operations Regulations (MHOR) 1992, as altered in 2002.
We want to assist you with your Safe Manual Handling so we are giving away a Free Risk Assessment for The Use Of Lifting Equipment for you to download instantly & use in your business today



If  you need other Risk Assessments for Safe Manual Handling you can purchase our Manual Handling Risk Assessments Package Here…