Working at Height Online Training
If you fall from high up, the result is often fatal.  Not only does a family lose a member, but the cost to the company is likely to be high in compensation and increased insurance premiums.  This means that it's not only a legal requirement for your people to have approved training, but also a sensible business decision.
The problem is that most training programmes require all your staff to lose a half day of their time – at the same time.  Online Working at Height training solves this problem.
People can train whenever it suits them at any time of the day – or night!  All they need is access to the internet.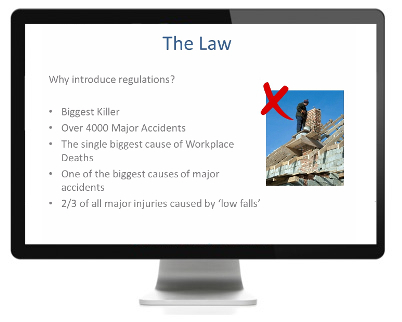 The course covers:
The legal requirements
How to carry out risk assessments
Means of access and use of ladders
How to be compliant erecting & using scaffolding (both independent & tower)
The programme finishes with a competency test and then the CPD certificate is emailed, giving you three years' certification.  The whole process should take around 1-2 hours and is based on multiple choice options.
Signing up is easy
Click the button above, pay and you'll get a link emailed to access the programme.  Once you click that and register you can view the programme and take the test.
Why should you learn Working at Height online?
It is flexible so people can do the course on their computer or tablet device at any time it suits them.
It doesn't have to be completed in one session – it should only take around 1-2 hours, but if learners want to stop and return later they can.
It's both cost effective and an efficient way to use everyone's time.
If you have 10 or more people who need to complete this programme call us on 0800 031 5404 for a discount product code.
Click one of the images below to see content from this course and the certificate issued to trainees for successfully completing the course.
FAQs
Ready to buy? Choose your course below
Our products are very simple to purchase. Click on your chosen course below to add to your shopping basket. Once purchased we will send instructions to begin the course.