Manual Handling eLearning
Back problems are the bane of any industry that requires physical activity. Manual Handling Training is not only a legal requirement, but also good business sense, for your team to be trained in how to lift and carry heavy items properly.
Course benefits:
Only £25 Plus VAT
CPD Certified
Independently verified
Personalised Completion Certificate is awarded
Your employees can do the training when it suits them (and you) best
Valid for 12 months
Can be used towards CHAS application
Duration – 1 hour
If you get interrupted you can come back to it later and pick up where you left off. As long as the programme is completed in the two weeks after you've registered, that's fine.
Course format
Interactive and delivered with video and audio presentations.
Short multiple choice test at the end
Even if you don't succeed at the first attempt you can revisit the eLearning and give it another try until you get a successful pass.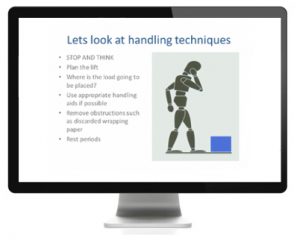 The course covers:
Manual handling legislation
The risks
How the body works – and what causes injury
Good handling techniques
Mechanical handling equipment
The competency test
If you have 10 or more people who need to complete this programme call us on 0800 031 5404 for a discount product code.
Click one of the images below to see content from this course and the certificate issued to trainees for successfully completing the course.
FAQs
Ready to buy? Choose your course below
Our products are very simple to purchase. Click on your chosen course below to add to your shopping basket. Once purchased we will send instructions to begin the course.