Fire Awareness Online Training
Asbestos – the silent killer
Asbestos awareness training has to be done, if your team are working on buildings where asbestos might be present, it's a legal requirement.
Benefits of Asbestos Awareness Online Training:
your workers can do the training when they like
whenever they have time
with the mobile app they could even do it during a break!
The programme is interactive and delivered with video and audio presentations.  When the learning part is complete there's a short multiple choice test and it's all done.  The whole process can be done in around an hour.
The plus is that you don't need to complete it in one go – if you get interrupted you can come back to it later and pick up where you left off.  As long as the programme is completed in the two weeks after you've registered, that's fine.
Even if you don't succeed at the first attempt you can revisit the learning and give it another try until you get a successful pass.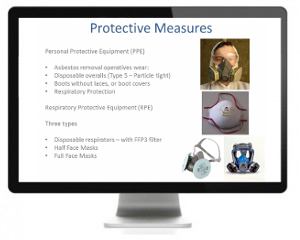 The course covers:
Why Asbestos is dangerous
The law on asbestos
Where asbestos is used
Protective measures
Signing up is easy
It couldn't be easier – pay, click the link you receive, register and complete the course.  Successful completion will result in you receiving a CPD certificate valid for 12 months.  This certification is acceptable by CHAS and other similar schemes.
Get your team the compliance they need now:
Why should you learn Asbestos Awareness e-learning?
It is flexible so people can do the course on their computer or tablet device at any time it suits them.
It doesn't have to be completed in one session – it should only take around an hour, but if learners want to stop and return later they can.
It's both cost effective and an efficient way to use everyone's time.
If you have 10 or more people who need to complete this programme call us on 0800 031 5404 for a discount product code.
Click one of the images below to see content from this course and the certificate issued to trainees for successfully completing the course.
FAQs
Ready to buy? Choose your course below
Our products are very simple to purchase. Click on your chosen course below to add to your shopping basket. Once purchased we will send instructions to begin the course.