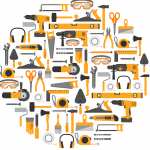 Constructionline is the largest pre-qualification database in the UK
Being a member of Constructionline can be beneficial for all sized companies you just need to know what you want to get out of it to make sure it can deliver an ROI for your company.  Constructionline is used by the big contractors and public bodies to pre qualify your business and your ability to carry out a project in terms of financials as well as operational process including Health & Safety.
Constructionline has  over 8,000 key decision makers from over 2,000 buying organisations. They  use Constructionline to select quality suppliers so constructionline can be a great tool to promote your services and gain new work opportunities.
1. Will being registered on Constructionline guarantee me to get work?
Constructionline's primary objective is to streamline the tender process and cut down on duplicated work for everyone involved.  The aim is to reduce the amount of paperwork you face at the tender stage. Constructionline cannot guarantee that you will win contracts as a result of your membership. Although having your details available to over 8,000 buyers, being a member can act as a sales and marketing tool for your business. Constructionline is widely recognised within the construction industry and meeting their criteria can only be seen as a good thing.
2. Can I check which buyers have viewed my company details?
You can see a full history of your views, click on the Log In button in the top right hand corner of this page. Enter your user name and password. Select the Reports tab and the report you require. Enter the Date From and Date To dates and select Run Report. Either print the report or save it to your desktop.
3. Will buyers be interested in my company if I register as i am only a small contractor?
Alot more buyers are looking for small, local contractors to employ because they are keen to re-invest in the local communities. The Constructionline system itself enables buyers to put in fairly complex search criteria so they are able to specify what size of company they would prefer to use. Therefore, if you are a small company it would be a great asset to join Constructionline and already, over 50% of our contractors are suppliers with a turnover of less than £1 million and 29% have a turnover of less than £250,000.
4. How much does it cost to register with Constructionline?
Constructionline is free to procurers. Suppliers pay an annual fee based on their turnover. Fees start at £90 plus VAT and you can register for an unlimited number of work categories and work locations.
5.Why does Constructionline need to charge fees?
Sir Michael Latham's report Constructing the Team recommended that the service be self-funding in order to give it the financial resources to develop and grow into a single register.
We hope this help you to make the business decision that is right for you.
If you need any help in submitting your Constructionline application let us know.